from Maranatha - Vieni, Signore Gesu!
:
"Most Holy Father,We are humbly writing to you, wishing to inform you of what lies deep in our hearts.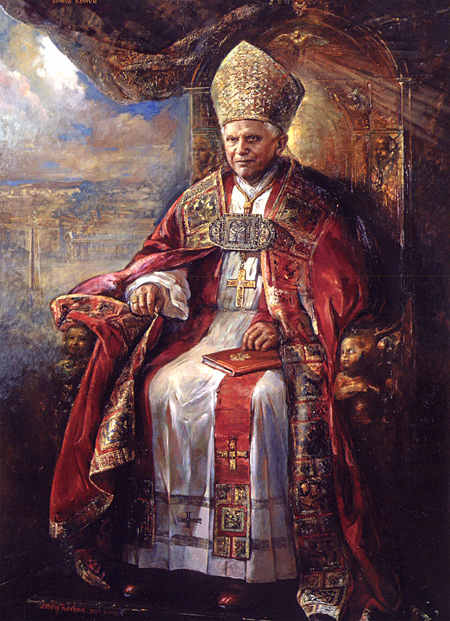 First of all we would like to thank you for the teaching which you have lavished on us, in audiences, homilies, letters and encyclicals that for many years now have been accompanying our spiritual growth. This has been of great benefit to us, and we believe to the whole Church, especially in these times of big "crisis".
Indeed your teaching represents liberation from the spiritual horrors of modern times, a true refuge and a good relief for the soul after having been indoctrinated by such an amount of false sagacity and personal interpretations, elevated to false dogmas.

Thanks to you, people are beginning to find some relief and solutions to the spiritual malaise which for many years has been hanging over the Church and which we had felt sorrowfully. A malaise which was due to a confusion and inability to separate between truth and falsehood, between what is just and what is erroneous, more and more difficult to distinguish and to perceive, even for the pastors themselves.

However, we wish to inform you of something which lies in our hearts, and which we have experienced after the 7th of July of 2007, in the simple ordinary life of a parish.

In particular, we would like to bring to your knowledge what has become of our lives, as has become the lives of many others, after the Motu Proprio Summorum Pontificum.

Thanks to this and to the liturgical sensibility of your Holiness [which is near to the heart of those, like us, who do not see anything "evil" in the liturgical expression of the Faith which has given spiritual nourishment to so many Saints in the passing centuries] we had obtained, even by so many sacrifices, sufferings and humiliations imposed on us by our Bishop, the celebration of the Holy Mass of all Ages, in an oratory outside of our parish. The joy of discovering the Holy Mass, loved by our parents and which we thought was lost forever, has somewhat made up for the big disappointment in noting that this sacred liturgy has not found any place within our so much-loved parochial community.

In the article 5 § 1 of your Motu Proprio Summorum Pontificum, your Holiness gives a great gift to the whole church, when you reaffirm the importance and central position of the parish and of the parochial community. This unity is formed and comes into existence by way of the liturgy, for which there has for many years been a demand that the justice sees to it that it is shown.

The liturgical tradition has for almost twenty centuries shown with clarity that it has not been "excommunicated", but always has been valid, legal, legitimate and sanctifying. Summorum Pontificum has indeed been a great act of justice.

The extraordinary riches of this document reside, we believe, in the fact that the Mass has finally returned to the parochial life of every day and is no longer relegated only to the hands of private persons and associations, to whom most certainly we owe the merit of having conserved this treasure.

True tradition lies not only in words and gestures that were codified in the antiquity and then during centuries handed over by the Church.

Tradition is also the bond of one's own blood with one's own land. The roots that sink down in one's own community, that is where one truly experiences the mystical meaning of the tradition: not a law or a rite, but a communion in the spirits who, united and living, not even death has had the power to pull apart.

In the parish our ancestors, our parents and our descendants are all united spiritually with us, like one people, living and gathered together in front of the sacrifice of Christ. That is the meaning which we give to the notion "local church".

It is with great sorrow that we discover the tragic choice that has been imposed upon us: to choose our roots to be maintained but (at the price of the) humiliation of our liturgical sensibility, or else to nourish this sensibility by uprooting our bond to the parish, and forcing us to become fugitives, exiled, relegated in chapels, without a parish, without true peace of mind.

Often these chapels become "mass centres", gathering persons from many parts of the region, all on the run from their respective parishes. However, they do not have any possibility to sanctify themselves there, neither in the parish, the place where this should manifest itself.

This exclusion from the life of the community and the parish is a true "ghettoization" and moreover the real cause of the division, which we did not wish to happen but had to endure!

It is almost as if Tradition was an infectious disease of which one must keep clear in order to avoid getting into contact with any still unaffected Catholics. How great is our wish to participate in the Holy Mass of all Ages, celebrated in our own parish by our own parish priest, in the same way in which we attend the Holy Mass in its sacred Ordinary form!

And yet it is relegated far away from us, almost as if it was a by-product of the Catholic liturgy, of inferior dignity, and worthy of being frequented only by Catholics of an inferior class! Nothing to say of the many problems encountered by us when making available to priests in the whole world the Missal of the Blessed Pope John XXIII with all the explanations and spiritual comments on every gesture of the Holy Mass. There were many problems and sufferings that we had to encounter, both from our parochial community and from the Diocese.

Not even to take into account the slander endured by us every day, the mockery, which we at first did not understand, the hostility, and sometimes outright improper reactions from priests, either absolutely unwilling to celebrate the Holy Mass, which according to them – and in this opposing Your Holiness' wish – should not be celebrated in a way considered by them henceforward obsolete and superseded, or because there is nobody in the parishes who is at all disposed to teach them the "ars celebrandi".

It is almost as if our love for the Sacred Liturgy of all times and our obedience to its law which invites us to reach out for the treasures of the traditional cult, instead of being appreciated by the clergy as a manifestation of the Christian spirit, is represented as something ignoble, impure and polluted.

As a consequence of our fidelity to Your Holiness and to Christ we are being made to feel as lepers, kept at a due distance and being abused!

There are moments when the parish priests, with their continued accusation, critics and calumnies, make us feel as outsiders in the parochial community and even outsiders of the Church. If we would not participate in the Mass of all Ages, those persons would certainly not reprimand us in this wicked way.

The result is that NOW, thanks to these continuous and subtle persecutions, we feel, in spite of ourselves, that it is WE who are far from the Church. With aching pain we feel that our mother, the Church, has expelled us, turned her back against us, and humiliated us. The void this makes us feel is terrible! In other words, the distress that we feel when noting that many priests and many bishops interpret (our) Catholic faith and (our) divine liturgy, which is the final expression of that faith, as not being in "continuity" with its millenary tradition (something which Your Holiness has explained more than once), but in open and incurable "discontinuity".
Thereby they are really making of us a banner to be shown defiantly to the world.

It is terrible to learn each day, in a tangible way, that in the same Church it is impossible to have the freedom to fully adhere to all what the Magisterium teaches us, without being subject to a snorting and a condescending attitude!

This is completely absurd. We are only Catholics, sons and daughters of the Catholic and Apostolic Roman Church, obedient to the Vicar of Christ and to his laws, faithful to his teaching and desirous to participate in the same Sacrifice of Christ that materializes in the ordinary, modern, form as well as in the extraordinary and older form of the one and only Catholic Mass (of the Roman Rite -- CAP).

We feel as if we had been left alone, at the mercy of people who hate us. When the Motu Proprio was promulgated, its implementation was constantly being obstructed, in some cases even arbitrarily hindered, with intimidations, arrogance, defamation, retaliations, either against us laymen or above all against the priests who would like to offer this mass to the People of God.

No really effective measures have been taken, in order that our Catholic Church ensures the peaceful cohabitation of the two forms of the same Sacrifice, with reciprocal enrichment.

Instead of receiving this torrent of insults and humiliations from Christians and also from the same pastors, who ought to excel in their obedience towards you, we prefer to almost go back into the catacombs, where the Christians were real brothers, and the enemies, on the other hand, could be easily identified. The Church of that time, humiliated and hidden as it was, still seemed more united and faithful than the one we see in our days, torn to pieces in its interior by various currents, factions, religious or non-religious interpreters, heretics, independent and fanciful malevolent people.

Judging from the continued testimonies which we receive on our webbsite for many months now, we may be sure that what we are experiencing is not an isolated case.

We have chosen to make public our letter of concern, which we in humility have chosen to address to you, in order to gather in the same spirit the invocations and sufferings from many other Catholics finding themselves in the same conditions as us, having endured the same vexations and humiliations.

We would like you to know the reality. In the same way, we would also like the faithful, who do not know the traditional liturgy of the Church, realize that as matters stand today, there is a problem regarding peaceful cohabitation inside the universal Church, and this for sure is not the fault of those who love the Tradition.

We ask you with all our heart, Your Holiness, to take the appropriate measures, which only you are in a position to take, in order to see to it that the Motu Proprio Summorum Pontificum becomes applied in every parish.

With your permission, Your Holiness, (we ask you) if you could help us, in a natural and simple way, without unnecessary discrimination, to obtain those fruits of sanctification in our parochial community. Please permit the faithful to really be able to chose, without having to meet with repercussions, humiliations and heavy burdens.

We are sure that we are joined in this request also by our brothers in Italy and in the world, experiencing the same affliction, but sometimes not having the possibility to express their discomfort. We ask it of you in the name of HISTORY and also in the name of future generations, as well as in the name of the true unity of our Church.

WE BEG YOU, HOLY FATHER, DO NOT LEAVE US ALONE! We pray that the Holy Spirit, with the intercession of Blessed Virgin Mary the Immaculate, keep you in good health and give you strength and courage to ever more efficiently guide the Church, helping us to celebrate the Mass according to the Traditional Liturgy in our parishes.

The 1st of July 2009, on the Feast of the Most Holy Body and Blood of Christ, with the expression of our high esteem and respect, we remain, Your Holiness,
your most devoted servants in Christ,
Paolo and Giovanni
Gandolfo Lambruschini

Many thanks for the translation to Natasja Hoven of Katolsk Observator, with some editing by Rorate. The remaining rough edges in some places will be edited shortly.
WEDNESDAY, JULY 15, 2009