becomes music centre.
This is a report of the
opening this month
. It is now called Amuz (Antwerp Music). This is their advertising.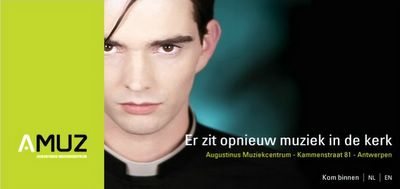 "He sees again music in the Church". Nothing else to do but weep.
This
Augustinian Church
in Utrecht, Netherlands however is thriving. The nearby St Monica's Church bearing the patronage of St Augustine's mother was not so lucky. It was closed on 25 June 1972 after a Pontifical Mass celebrated by
Cardinal Alfrink
The St Martin's Church in the same town became appartments.
St Martin's Church in Groningen
, Netherlands was destroyed in 1982.
Make way for the bulldozers.