in St Timothy's Church, the home parish of
their founder who has just been arrested
.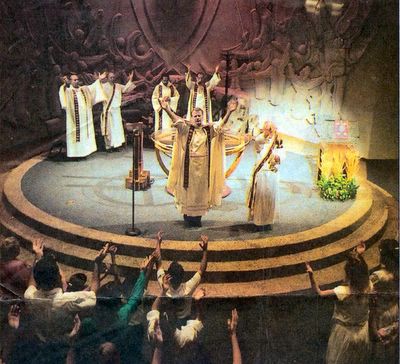 Untrustworthy, morally, liturgically and spiritually.
'"Get more out of the Mass". Totally wrong idea. "Getting something out of it" is the catch cry of the bored, self-absorbed, worldly man.' To quote MurphE on the Free Republic site.
When the Holy Sacrifice of the Mass has been reduced to a theatrical performance, no surprise the Church looks like a theatre.
While the Mass becomes primarily a performance, the font becomes a pool.
More likely here that Faith goes down the drain than sins are washed away.
Promoting Lifeteen Mass but where is the leaven of Christ?
You'll never experience Mass the same way again. (You will be relieved to know!)
"Only 12 more weeks to go". Hopefully before the
whole wretched, failed and corrupt attempt at evangelising youth
has the shutters slammed down on it forever. The priest is innocent until proven guilty. But his pastoral work is also a crime against the Church for which he will never be tried. For this he is guilty. See
unbelievable pictures
and
"They were consciously choosing a new program with this questionable leadership,' she said. 'It's morally reprehensible."
and
"Life Teen is like a precious gem in the Church's crown"!!!