ZENIT - Cardinal Ouellet: Let Us Rejoice at Fruitfulness of Vatican II
: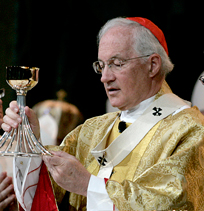 "Leading up to the Eucharistic Congress to be held in Dublin, Ireland, a theological symposium at Maynooth opened Wednesday.
He started by noting that Blessed John XXIII set two main goals for the Council: to bring the presentation of the Church's doctrine up to date and to promote the unity of Christians.
"In order to attain these objectives, the Council Fathers undertook a fundamental reflection on ecclesiology, in the hopes of better defining the Church's profound nature, her essential structure, and the meaning of her mission in a world increasingly emancipated from her influence and tradition," Cardinal Ouellet explained."
Cathcon- so how does the Cardinal explain the present state of the once great Church of Ireland? Almost needless to say the Cardinal graduated from seminary in 1969. It will be for the next generations to break away from the complete myth of the fruitfulness of the Council. It is a damaging belief to hold for someone tipped for such high office.

There are only a few prelates left who are burdened with actually having been at the Council, the present Pope among them. At the Seventh Ecumenical Council, the Western Church saved the Eastern from iconoclasm, perhaps at the next the Eastern Church will save the Western from modernism. It all takes time.