News and comment on church closings and on modern Catholic life throughout the world. The practice of Catholic devotions as a remedy and in reparation will also be encouraged. If anyone has any news on any Catholic Church closures anywhere in the world, pictures and suggested links please feel free to e-mail. Also pay a visit to the extensive archives- also click on labels.
Friday, December 07, 2007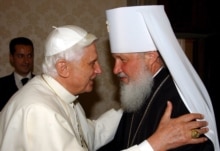 " Pope Benedict held a rare meeting on Friday
with a senior Russian Orthodox Church cleric, who hailed the encounter as proof of warming relations and a step toward greater Christian unity. Metropolitan Kirill, the head of external relations for the Moscow Patriarchate, said after meeting Benedict that he was increasingly optimistic about relations with Rome. 'It is with great feelings of hope that I leave Rome after this visit,' he told Vatican newspaper L'Osservatore Romano after the closed-door meeting."
Not so rare- the last meeting was in 2006, pictured above.