News and comment on church closings and on modern Catholic life throughout the world. The practice of Catholic devotions as a remedy and in reparation will also be encouraged. If anyone has any news on any Catholic Church closures anywhere in the world, pictures and suggested links please feel free to e-mail. Also pay a visit to the extensive archives- also click on labels.
Friday, February 16, 2007
Cologne Cardinal causes political firestorm in Bavaria which spreads throughout Germany. Cardinal divided against Cardinal, and Bishop against the second Cardinal.
Seehofer and media morality
Original article

There has been relative calm over the last few weeks, but then suddenly the tabloids begin again on the private life of the German Minister for Consumer Protection,
Horst Seehofer.
It started off with
Joachim Meisner
, the arch-conservative Cardinal of Cologne.
who voiced his distaste about Minister Horst Seehofer, as the latter seeks election as the head of the Bavarian,
Christian Social Union (CSU)
despite his extra-marital affair. "How can he become the chairman of a Christian political party? How far have we declined these days?" These were the questions that the Cardinal asked and talked immediately about a suspicion of schizophrenia and suggested a visit to the doctor as well.
Cardinal Meisner, himself without any suspicion of scandal did not seem to worry that
his statements
were made in The Express- (
whole article
here) which is a tabloid – on their homepage were quite daring and sexy girls and in which they talk about the "Tokyo hotel experience", how fabulous sex with fans is.
This had its effect. Other tabloids have also printed his comments and Bild chose the title in bold print, "Cardinal attacks Seehofer."
Stirring things up and finding Simonis
This German with its largest circulation printed Seehofers name immediately again on their first page, as after all Seehofer's first wife, who had so far been unknown, suddenly surfaced. Seehofer had so far kept silent on his marriage, even in the best known press archive, there was no mention of it.
And now in the midst of the battle for Stoiber's succession for the CSU chairmanship and 25 years after the divorce, Christl Sch. found it appropriate to publicly cause friction – with an interview in
Bunte
, a magazine that, as its name says, has colourful articles. This statement was jumped upon by the tabloids with glee. The
Munich tz
entitled the article, "Seehofer's path becomes narrower, wife tells all"
But this is not enough. Bunte searched around and found somebody who is disgusted about the delving into Seehofer's private life,
Heidi Simonis
. She is the former Minister President of Schleswig Holstein and complained that personal humiliations and indiscretions from the private domain are being misused as political attacks. (a recent victim in her own right of vicious political infighting).
"Shooting politicians" seems to have become a new sport, she says.
And this is how the statements built and built and there was more and more media interest. The topic is no longer ignored. All use the tabloid as a source and this is how they function.
Even Cardinal Meisner colleague in office, Friedrich Cardinal Wetter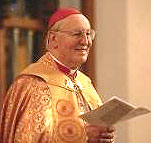 was telephoned but the experienced
Archbishop of Munich and Freising
did not want to make a comment. His press officer, Winfried Roehmel said on this topic the rather bland sentence, "this dispute does not belong in the public domain"
As far as the
Stoiber
succession in the CSU, he says "the party will decide internally who will become its chairman and not the Church and this is, of course, correct."
The Passau
Bishop Wilhelm Schraml
supports Meisners position
"Every person who has a public office, and especially those who carry political responsibility should act as an example"
He is Vice-President of the German Catholic Bishops Conference Commission on Marriage and the Family.
The whole episode reminds of the debate within the American Bishops of whether to give Communion to pro-abortion politicians. It is time for a consistent line in both cases.