News and comment on church closings and on modern Catholic life throughout the world. The practice of Catholic devotions as a remedy and in reparation will also be encouraged. If anyone has any news on any Catholic Church closures anywhere in the world, pictures and suggested links please feel free to e-mail. Also pay a visit to the extensive archives- also click on labels.
Saturday, January 07, 2006
Catholic student meditation room in Nuremburg makes attempt on "world's smallest altar" record. Ironically, their menorah is bigger.
When a "new movement"
starts to behave like a sect.
New movements themselves are often means to avoid the sacrifices required for the traditional religious life. Sects are just dangerous.
More background here in
extracts from a book by a Passionist priest.
This is their newly opened international retreat centre, Domus Galilaeae on the Mount of the Beatitudes in Israel.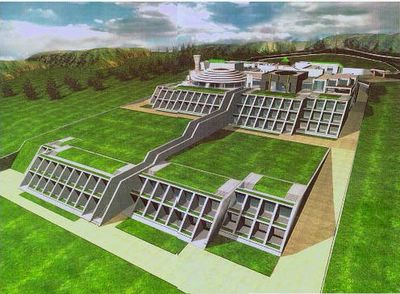 The entrance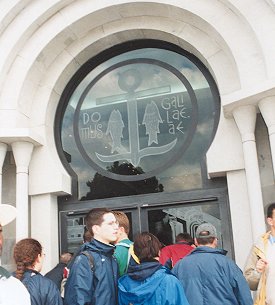 The Fathers of the Second Vatican Council wanted a rediscovery of the Early Church Fathers; they cannot have expected a group that went further back in time and sought a reconciliation between the Church and the synagogues.
The whole building out of its way to prove that this group is in some sense a reversion to Judaism. In their own words,
"a bridge to the whole Jewish tradition."
There is a proliferation of Jewish symbols and the relative lack of Christian symbols.
"Moreover,
every Saturday a procession of unusual visitors enlivens the hillside of Korazym.
They are Orthodox Jews who knock at the door of the "Domus Galilaeae." Next to the entrance they find a "bimah," a pulpit, as in the synagogues; on the cloister side there is Moses' decalogue carved in Hebrew in marble; at the center of the library there's a Torah from the 15th century; after the visit there are farewells, with the singing of the "Shemah Israel," and they leave emotionally moved."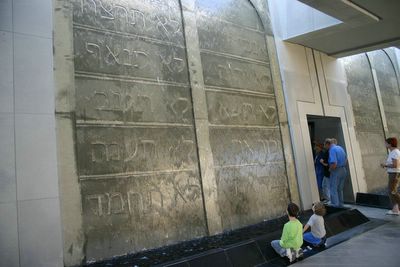 This is the main hall laid out for a "Banquet Mass".
The Vatican has every right to continuing concern about this group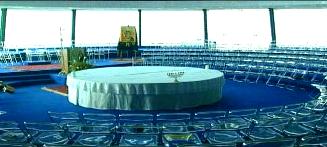 And to prove the point in the main chapel, a dinner table. Seating on all four sides, likely Communion sitting down and not by a priest but your neighbour.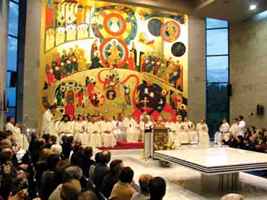 Viewed from a distance during construction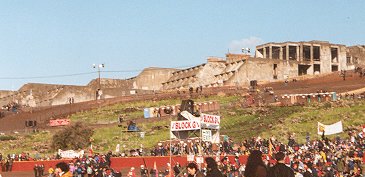 Their tower called "the Chalice" is illuminated at night.
Excellent discussion on the Way here.
The square "banqueting" altar decorated with a Jewish menorah (and not a Cross!) seems universal in the Neo-Catechumenal Way. Here in America in 1997
In France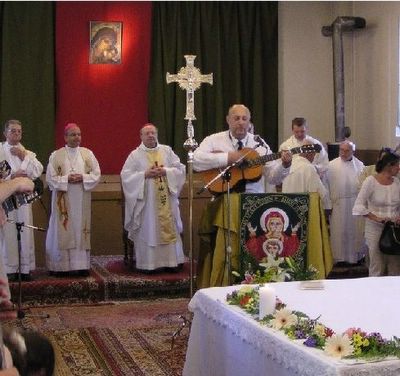 In Australia