Lord Jesus cover Pope Pius IX with the protection of your Divine Heart. As Jesus is glorified, he glorifies His Church. By suffering and love, he reigns always. Daily Union of Prayers for the Pope.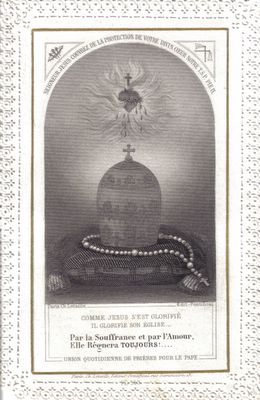 O God, thrice holy. I adore you, I love you, I bless you. The Eucharistic Heart of Jesus.

I adore you, I love you, I bless you, through the Sacred Heart of Jesus in the Blessed Sacrament of the Altar.... and I offer you through the blessed hands of the Immaculate Virgin Mary, all the Blessed Hosts which are on our altars, and in our tabernacles, in sacrifice of expiation, of reperation and of amendation for all the sacriliges, profanations, impieties, blasphemies and crimes which are committed against you throughout the universe. Indulgence 300 days each time. Lord Jesus, place Our Most Holy Father, the Pope under the protection of Your Sacred Heart. Immaculate Heart of Mary Pray for us. One Our Father, One Hail Mary, One Glory Be. (1) Plenary once a month with Communion with the intentions of the prayer.