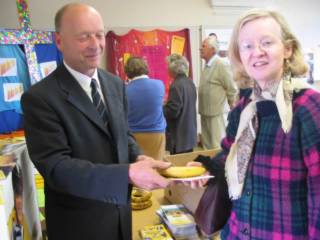 The Diocese of Linz in Austria thinks that handing out bananas is a way of attracting the laity into religious life. And then they wonder why they have so few vocations.
So it is not only the American dioceses that are trying (and failing) to make monkeys out of the laity.
Hand out rosaries!
See post below for a close up of the offending banana. Translated, "Just imagine the Church".
Instead of this nonsense, a prayer.
Lord give us priests
Lord gives us holy priests
Lord give us many holy priests
Lord give us many vocations to the religious life